Life Cycle and Transitions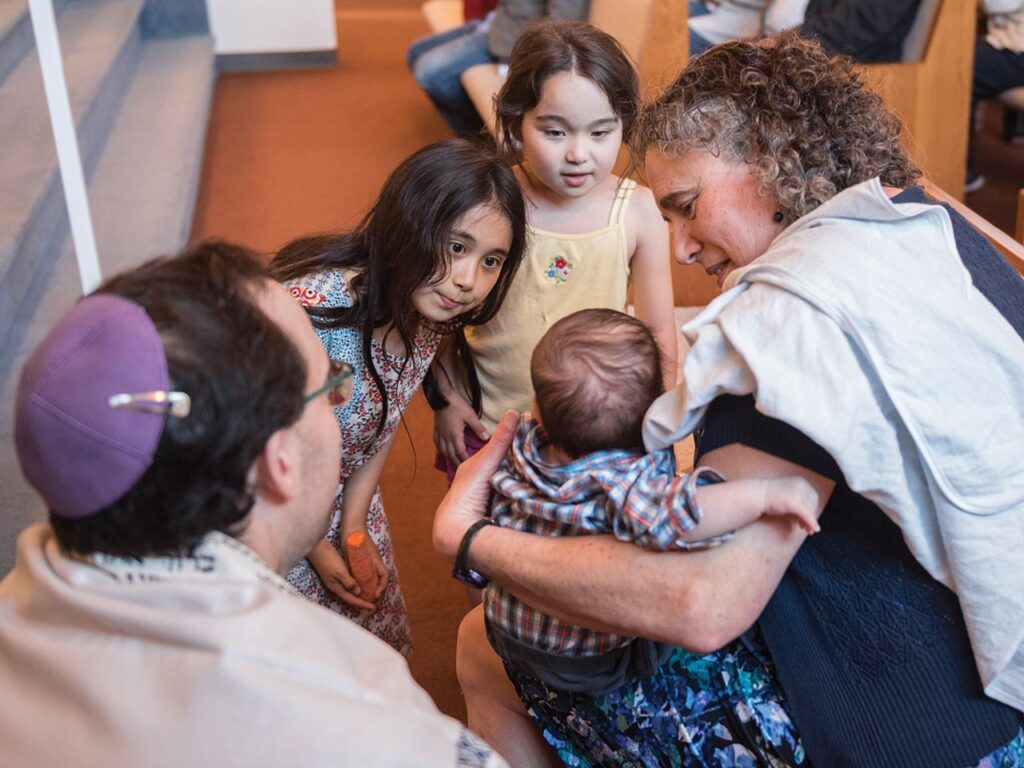 From the perspective of Reform Judaism, there is more than one authentic way to be Jewish. Judaism changes and adapts to remain meaningful to all members of our community.
From birth to death, Jewish tradition provides prayer and ritual to help us move through life's transitions with joy, learning, community, dignity and healing. Reform Judaism maintains its connections to the generations of the people of Israel through the ever-evolving teachings of Torah and by observing our traditions in new ways. With the help of our clergy, our members plan and celebrate life cycle events with special attention to each family's unique needs.
Our members celebrate birth, b'nai mitzvah, weddings and other unique moments in life using traditional Jewish rituals enhanced by contemporary innovations. When death comes, we provide the comfort and dignity of the Jewish way of burial and mourning: a time to mourn and a way to heal. Our congregation welcomes individuals and families who are interfaith, LGBTQ* and from all racial heritages.
---
Choosing Judaism
The Jewish community takes delight in welcoming those who choose to embrace Judaism as their own religion, and many of our congregants have taken this path, each with their own unique and remarkable story. If you are thinking of exploring conversion, start by making an appointment with our rabbi.
The rabbi will not only discuss the process and implications of becoming a Jew, but he will also explore with you your reasons for wanting to do so. We also encourage you to participate in our services and other events, online or in person, as circumstances allow. More information is available here.
Baby Naming/Brit Milah
Judaism is "covenantal," establishing a relationship between a newborn child and the people of Israel soon after birth. In Reform Judaism, as practiced at Temple Shalom, there are a number of ways of establishing this covenant for both boys and girls, including baby namings, Brit Shalom and Brit Milah (circumcision).
Most Reform Jewish families choose to circumcise according to Jewish tradition. Brit milah normally takes place 8 days after birth or as soon as is possible. Arrangements for a bris may be made with a doctor who will conduct the circumcision in accordance with Jewish tradition. Contact the temple to arrange for our clergy to officiate or for our space to be used.
Reform Judaism recognizes any child with one Jewish parent (either mother or father) as Jewish; Jewish identity is a matter of parental decision, and can be discussed further with our rabbi.
---
B'nai Mitzvah
Training for children planning a Bar or Bat Mitzvah in 2023 will begin on September 12th at Temple Shalom at 7:00 p.m. Please contact the temple for further information and to register.
Adults who are interested in B'nai Mitzvah may also register interest with the temple. A meeting will be held after the High Holidays.
---
Death & Mourning
End of Life
Temple Shalom has its own cemetery [Beit Chayim Mikdash Shalom] at Chapel Lawn at 4000 Portage Ave. which can accommodate traditional Jewish burials as well as cremations for the Jewish community, including interfaith couples and families. Our clergy can also officiate at funerals where burials are at Winnipeg's other Jewish cemeteries.
Please contact the Temple office or Emergency number [204-333-6884] when there is a death in the family or when a loved one's death is imminent. Temple Shalom offers members of the Jewish community support during the difficult time around death. Our clergy and knowledgeable lay leaders can guide you through the practices and processes around Jewish mourning. We offer several options for funerals and burials, officiation at the funeral and community support during the period of shivah (the days of mourning immediately following the funeral) and beyond.
For a modern Reform Jewish guide to death and mourning rituals, go to reformjudaism.org.
If Tahara [ritual preparation of the body] is desired, the Chesed Shel Emes should be contacted first to arrange to receive the body. If one already has a plot at Chapel Lawn, a call to our office should be made to arrange an officiant and a call to Melody Brown at Chapel Lawn to make arrangements for the interment.
Funerals
Funerals may be held at Temple Shalom, at Chapel Lawn, at the Chesed Shel Emes or at the graveside. There are several people able to conduct a funeral service including Rabbi Allan Finkel and Cantor Len Udow. Funerals can be livestreamed at the request of the family.
Meals of condolence can be held at the Temple, at Chapel Lawn or at a mourner's home. We can assist in making arrangements for catering.
Mourning
How does one respond to the loss of a loved one? There are as many ways to grieve as there are members of the human family.
Some will weep incessantly; others will not weep at all.
Some will insist on a full seven days of shiva; others will observe three days, just one day – or none at all.
Some will seek privacy; others will find comfort in the company of fellow-mourners and friends.
Some will talk, tell stories, or share cellphone photos unceasingly; others will listen or speak sparingly, with their cellphones out of sight.
Some will follow the prayers and blessings of a shiva minyan with fervour; others will sit or stand quietly and respectfully, with or without a siddur in their hands.
Some visitors will remain with mourning family members for a few minutes; others will make an evening of it – and every evening of it. And some, for reasons too complex to pursue, will not visit at all.
Templates for mourning? There are none. Each in our own way will experience grief and carry in us the soul of our deceased loved ones, thankful for their having been a part of our lives.
Cemetery
Bet Chaim Mikdash Shalom – A Jewish Cemetery Alternative
Temple Shalom is pleased to offer an affordable Jewish cemetery alternative and traditional Jewish burial within the grounds of Chapel Lawn Funeral Home and Cemetery in Winnipeg. A cemetery within the cemetery, Bet Chaim Mikdash Shalom offers a tranquil resting place for your loved one, while honouring traditional Jewish burial, as well as meeting the needs of interfaith families.
Cemetery plots and funeral services are available to both members and non-members of Temple Shalom. Special pricing is available for members of Temple Shalom.
For more information, please contact Ruth Livingston at rnlivingston@gmail.com or 204-475-4768.